Norfolk Southern Locomotive Data - HO140 and N140.
This set includes data used on Norfolk Southern locomotives from 1982 - 2019. The set has 191 styles of data plus step edges. Several locomotive designations since the release of our NS designation set include AC44C6CF, AC44C6M, ET44AC, SD70ACC, and SD70ACU.
With this set, and our previously released sets, almost any standard Norfolk Southern locomotive can be modeled.
The HO Scale version includes three full sheets and the N Scale version includes two full sheets. An instruction sheet is also included that shows enlargements of each decal. Click on the links below to see each sheet and the instructions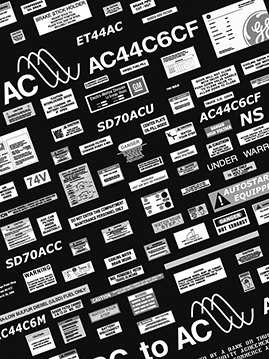 Norfolk Southern Locomotive Designations - HO135 and N135.

This set includes locomotive designations for the following Norfolk Southern locomotives: 3GS21B, 3GS21CDE, BP4, D8-32B, D8-40C, D9-40C, D8-40CW, D9-40CW, D9-44CW, ES40DC, ES44AC, ES44DC, F9A, F7B, GP15-1, GP22ECO, GP38-2, GP38-3, GP38AC, GP40-2, GP49, GP50, GP59, GP60, GP59E, MP15DC, GPTEB, MP21E, MP15E, RCP4, PR43C, RP20BD, RP14BD, RP-4E, RP20CD, RP-E4D, RP-E4C, RP-M4C, RP-E4U, SD9M, RPU6, SD38-2, SD38, SD40-2, SD40E, SD50, SD45-2, SD60, SD60E, SD60I, SD60M, SD70, SD70ACe (Two Styles), SD70M, SD70M-2, SD80MAC, SW1001, and SW1500.

An Alphabet with additional dashes, dots and slashes is also included. Several decals have the black background for use on NS locomotives still in Conrail paint. There are three pair of each designation.